Time Raiders
Fifty thousand years ago, after discovering that human females carried a nascent genetic potential that might one day develop into the ability to star navigate, The Pleiadian Council planted a dozen pieces of a bronze disk across the Earth, hidden in darkness until mankind advances enough to travel through time and find them.
And then, out of the ashes of the mystery-shrouded Roswell Alien crash in 1947 arose a secret research project called Anasazi. Its improbable goal: learn to use the recovered alien technology for the purposes of time travel. General Beverly Ashton was the last to command this project before a dozen time travelers were inexplicably lost and the project disbanded.
However, the recent discovery of an ancient journal, known as the Ad Astra, has given Professor Athena Carswell the information she needs to begin sending modern time travelers back through human history in search of the twelve pieces of the Pleiadian medallion which, when fully reassembled, will send a signal to the Council indicating mankind is ready to be introduced to the rest of the galactic community.
Project Anasazi has secretly been reactivated, and General Ashton, now retired, and Professor Carswell are continuing the project's work. They are carefully recruiting and training a team of military men and women to make the dangerous time jumps.
But threats loom on the horizon, both from humans who would see the project ended, or worse, steal its work and use it for nefarious ends, and from the Centauri Federation, which will do anything to stop humans from learning how to navigate the stars.
"The Seduction" von Cindy Dees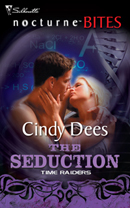 ISBN: 978-1-426-83638-1
Erschienen: Juli 2009 bei Harlequin
Cindy Dees brings you the prequel to the Time Raiders Series. THE SEDUCTION takes place at the very beginning of Project Anasazi and launches the breathtaking adventures.
Seduction tells the story of Professor Athena Carswell and her boss, Colonel Peter Grafton, who, together, crack the time travel conundrum...in a very unconventional way and for a very unconventional reason!
1. "The Seeker" von Lindsey McKenna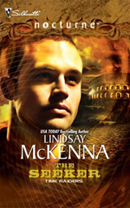 ISBN: 978-1-426-83815-6
Erschienen: August 2009 bei Harlequin
USA TODAY bestselling author Lindsay McKenna presents TIME RAIDERS, a thrilling new series of paranormal adventure, time-travel, and passion through the ages. Leap through time with The Seeker, a mesmerizing tale of danger and desire in Ancient Rome. . . .
Delia Sebastian is a trained historian and psychic. Former Army Captain Jake Tyler is her swaggering ex-lover, who can read her most intimate thoughts--and desires.
Together they will make the risky leap back to 44 B.C. to infiltrate the court of Julius Caesar by posing as Grecian mercenaries. But with assassins everywhere, will old passions reignite to undermine their cover...leaving them trapped in history forever?
2. "The Slayer" von Cindy Dees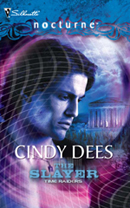 ISBN: 978-1-426-83937-5
Erschienen: September 2009 bei Harlequin
Cindy Dees continues Time Raiders, a thrilling new series of paranormal adventure, time travel and passion through the ages. Don't miss this captivating adventure in which the fate of mankind lies with the two people bound by magic, passion--and an elusive artifact.
Because of her uncanny ability to find lost objects, Tessa Marconi has been given the dangerous task of time-jumping back to the Persian Empire and ancient Greece to locate a precious medallion fragment. Trouble finds her in Xerxes' court--and so does the most beautiful man she's even seen, Rustam of Halicarnassus. There's only one problem: he's a Centauri spy whos sworn duty is to stop her.
Tessa has never felt such magic strength-or sexual prowess-as she feels in Rustam's presence. And as the conflict that grips Persia and Greece explodes, it becomes clear that their auras are stangely interwined. Seperately, they are powerless. But together they just might save the world...and themselves.
3. "The Avenger" von P.C. Cast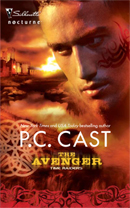 ISBN: 978-0-310-56946-6
Erschienen: Oktober 2009 bei Harlequin
Join New York Times bestseller P.C. Cast as the Time Raiders continue their desperate quest for the key to peace... by casting one more of their own into the dangerous unknown... with passionate results!
For Alexandra Patton, The Time Raiders project sends the reluctant psychic back to 60 AD Britton-a world where she can barely understand the accents, let alone its culture of brutality and superstition. Armed only with her "freakish" ability to talk to the dead, Alex must use all her gifts to entice Caradoc, a savagely sexy Druid warrior, into helping her succeed in her mission.
What they discover along the way is pure passion.
Now, torn between duty and the man of her dreams, should Alex return home if given the chance? Or dare she risk everything to begin anew in this strange and mystical land?
4. "The Protector" von Merline Lovelace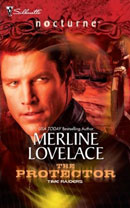 ISBN: 978-1-426-84310-5
Erschienen: November 2009 bei Harlequin
Two Time Raiders in the guise of a Viking warrior and a captive Irish slave travel back to a time of intrigue and silken sensuality as they race to find the fourth fragment of a medallion that will bring Earth one step closer to freedom.
Max Brody's body tingles with danger when he meets Cassandra Jones, the mission specialist with whom he'll jump back to seventh century China. Petite and guarded, Cassie may look like someone who needs protection, but her essence whispers to him of untamed talents that could destroy as easily as seduce. Yet Cassie's powers and passion, if properly awakened, might be their only safeguard. For amid the splendor and intrigue of the Imperial Court of Empress Wu Jao, they will confront a formidable enemy -- and an unstoppable force of nature that's beyond their control....