Athena Force
aus der Reihe Silhouette Bombshell
An exclusive online prequel to Bombshell's Athena Force continuity! (leider nicht mehr online)
"The Promise" von Debra Webb
Years ago, a group of friends at Athena Academy — an elite, cutting-edge college preparatory school for women — made a sacred vow.
More than a decade has passed since the Cassandras, as they were called then, promised to come together, no questions asked, if any one of them called for help. Now, one of their own has made that call. Rainy Carrington is in danger…. And the women of Athena will come together to help her in any way they can.
Trained together at the Athena Academy, these six women vowed to help each other when in need. Now one of their own has been murdered, and its up to them to find the killer - before they become the next victim....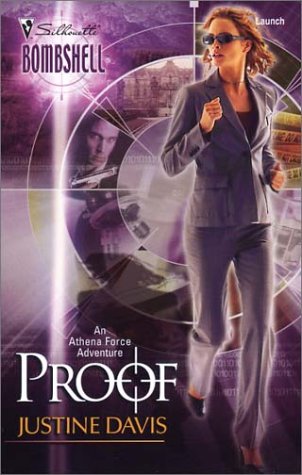 ISBN: 0-373-51316-X
Erschienen: Juni 2002
Athena Academy bred strong women -- and Alex Forsythe was at the top of her class. In her five years at the state-of-the-art school, she was known for her razor-sharp mind and her fearlessness in the face of the most deadly opponent. Now a top-notch forensic scientist, Alex returned to Athena to avenge the death of her dearest friend, determined to prove there was more to Rainy's demise than the evidence suggested . . .
But digging deep into this murder made others uneasy, including a sexy stranger who tantalized her toward the truth -- and seemingly toward ever greater danger. Caught up in his cat-and-mouse game, Alex stumbled upon proof so startling it could change her whole life. Or end it.
Meine Meinung zu diesem Buch gibt es hier.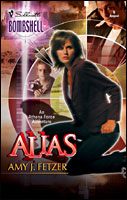 ISBN: 0-373-51320-8
Erschienen: Juli 2002
In school, she was everyone's best friend. But these days, Darcy Steele was a single mother living in the shadows following a marriage gone dangerously wrong. Not even her closest friends knew her whereabouts — until one of those friends was murdered.
Now Darcy was back to find answers about her friend's death, even if it meant jeopardizing the cover she'd so carefully constructed — and discovering that the one man she trusted might not be what he seemed. Because risking her own life was a small price to pay when the lives of those she loved were at stake...
Meine Meinung zu diesem Buch gibt es hier.
3. "Exposed" von Katherine Garbera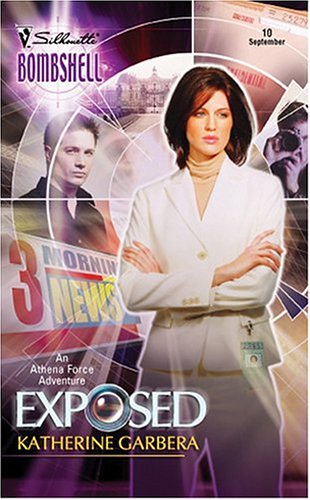 ISBN: 0-373-513220
Erschienen: August 2002
A little danger couldn't keep hotshot reporter Tory Patton from the story of a lifetime. Plus, an exclusive with the navy SEAL, Tom King, held hostage in war-torn Central America would put her in the big leagues. But an assassination attempt on the wounded soldier suddenly turned Tory's interview into a rescue mission. With the help of a mysterious operative who seemed to shadow her every move, Tory summoned her well-trained survival skills to get them to safety. But would she live long enough to discover more about her sexy guardian angel, and expose a shocking scandal that could implicate everyone from the top levels of the White House to the very people she trusted the most?
Meine Meinung zu diesem Buch gibt es hier.
2. "Double-Cross" von Meredith Fletcher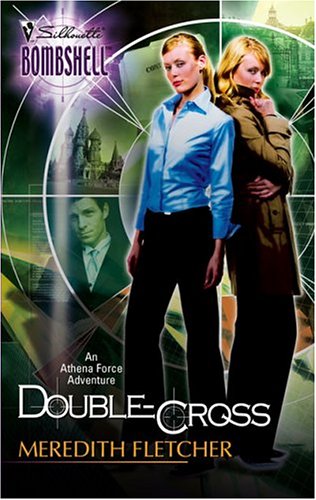 ISBN: 0-373-51328-3
Erschienen: September 2002
An orphan with an unknown past, CIA operative Samantha St. John used her quick speed und sharp mind to male up for her small size. Sam was about to go AWOL on a mission for vengeance - bringing down the legendary killer she believed was responsible for her dear friend's death - when she was detained und accused of betraying her country. Now, to clear her name and get back to business, the fearless agent had to face down an enemy who bore an uncanny resemblence to Sam herself....
Meine Meinung zu diesem Buch gibt es hier.
5. "Pursued" von Catherine Mann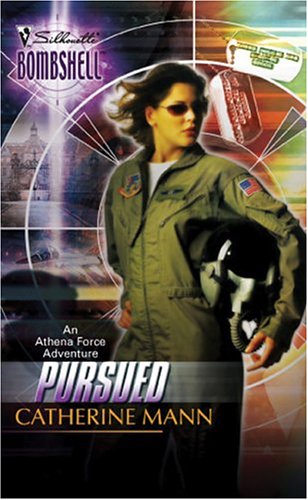 ISBN: 0-373-51332-1
Erschienen: Oktober 2002
Air force captain Josie Lockworth came from a long line of American patriots und was expected to follow her family's example. But after a good friend's death, the usually savvy Athena Academy graduate wasn't performing at her best. Still, when the project she'd been working in for months crashed and burned, she knew it wasn't due to her negligence. Someone was trying to sabotage her career. With the authorities after her head und an unsettling inspector looking over her shoulder, Josie raced to clear her name before she became the next casualty of war....
Meine Meinung zu diesem Buch gibt es hier.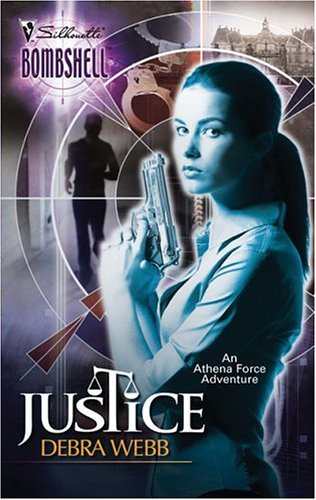 ISBN: 0-373-51336-2
Erschienen: November 2002
Her best friend's killer was dead, and so was Kayla Ryan's best lead to find her friend's missing child. But the determined police lieutenant didn't have it in her to give up. Now she would join forces with a secretive detective to find the people who'd sent the assassin and bring them to justice. Her life — and all those she loved — depended on exposing a chilling conspiracy. And she couldn't shake the feeling that someone was watching her every move. Could the enemy be closer than Kayla had ever suspected?
Meine Meinung zu diesem Buch gibt es hier.
The ties that bind may be the ties that kill, as these extraordinary women race against the time to beat the genetic time bomb that is their birthright....
7. "Deceived" von Carla Cassidy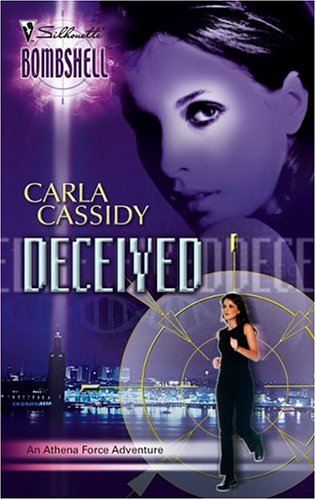 ISBN: 0-373-51320-2
Erschienen: Dezember 2002
Who can Lynn White trust when the man who raised her, her trusted godfather, might be lying to her face?
How does she know what's real when she's used her highly unusual skills to retrieve stolen valuables from places no one else could enter — under what she thought were government orders — only to learn that she's on the FBI's Most Wanted list?
Will she dare choose to trust two strangers — one claiming to be her sister, the other hoping to be her lover — when the chilling stories they tell her mean the truth may be far more dangerous than any lie?
Meine Meinung zu diesem Buch gibt es hier.
8. "Contact" von Evelyn Vaughn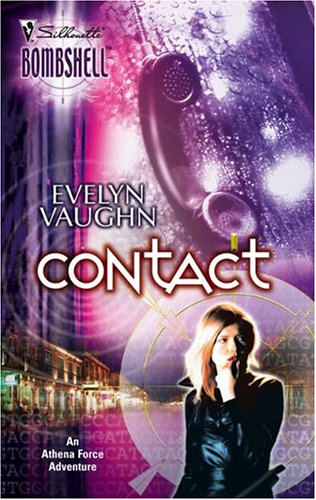 ISBN: 0-373-51322-5
Erschienen: Januar 2005
Her anonymous tips to the New Orleans police had helped to crack some of their toughest cases. But the cops didn't know that this elusive contact worked in their own evidence department — or that Faith Corbett was psychic. Faith has no idea her gift was the result of genetic engineering and part of a twisted heritage her mother had kept from her — until a serial killer started hunting for psychics and chose Faith as his next target. To catch the killer, she'd have to reveal her identity to a skeptical detective whose faith in her could mean the difference between life and death…
Meine Meinung zu diesem Buch gibt es hier.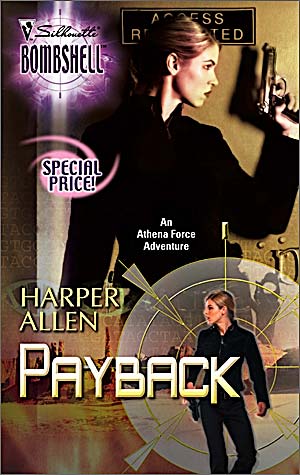 ISBN: 0-373-51328-8
Erschienen: Februar 2005
Highly trained assassin Dawn O'Shaugnessey was hard to kill — but the superhealing powers she'd been born with had become almost a curse. Dawn had learned the horrifying truth behind her origins from the women of Athena Academy, and she'd vowed to help them destroy the scientist who'd made her the perfect killer. But there was a catch. The very genes that allowed Dawn to take a bullet and heal within minutes were self-destructing, and only her creator could stop the damage. Now Dawn had to choose between life and payback.…
Meine Meinung zu diesem Buch gibt es hier.
Only the extraordinary women of Athena Academy could create Oracle - a covert intelligence organization so secret that not even its members know who else belongs. Now it's up to the three top agents to bring down the enemies who threaten all they've sworn to protect....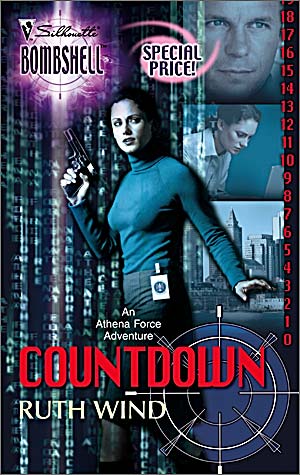 ISBN: 0-373-51352-6
Erschienen: März 2005
10…9…8…
Hotshot NSA code breaker Kim Valenti had cracked a code revealing a terrorist plot to take over a major TV network…a takeover that Kim learned too late was only a diversion for a far more dangerous threat.
7…6…5…
She had just minutes to thwart the real plot — a bomb at a major airport. Kidnapping a member of the FBI bomb squad to help her was a start.…
2…3…2…
Now it was up to Kim — and one angry FBI agent — to find the bomb, defuse it and live to fight another day. Except…was this explosive just the tip of the iceberg?
1
Meine Meinung zu diesem Buch gibt es hier.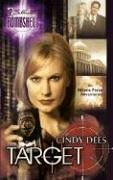 ISBN: 0-373-51356-9
Erschienen: April 2005
Someone was trying to assassinate the president of the United States, and only army intelligence captain Diana Lockworth had the ability to stop them — if she could convince the authorities she wasn't a crackpot. It didn't help that her intel came from a source so secret even she didn't know who it was. With only twenty-four hours to stop the attack, she had to figure out who was masterminding the plot and when they planned to strike. First, she had to get the charismatic young president on her side. And then she'd give the enemy a new target — herself!
Meine Meinung zu diesem Buch gibt es hier.
12. "Checkmate" von Doranna Durgin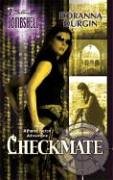 ISBN: 0-373-51360-7
Erschienen: Mai 2005
A Middle Eastern capitol building has been captured by insurgents. The prime minister, his staff and a group of visiting college students have become disposable hostages. But what the rebels don't know is that someone is still loose in the building.…
FBI legal attaché Selena Jones took the foreign post when her marriage hit the rocks. Now she's narrowly escaped becoming a hostage — but she's trapped. She has just hours to find out what the rebels are up to and outsmart their compelling leader. And her lone contact to the outside world is the one man she swore never to trust again.…
Meine Meinung zu diesem Buch gibt es hier.
Nach fast einem Jahr sind ein paar der obigen "Athenas" wieder da ....
Chosen for their talents. Trained to be the best. Expected to change the world.
13. "Flashback" von Justine Davis
ISDN: 0-373-51200-X
Erschienen: April 2006
The women of Athena Academy were becoming known as a force for justice around the world. And when new clues surfaced about the decade-old murder of Athena Academy founder and U.S. senator Marion Gracelyn, FBI forensic scientist Alexandra Forsythe jumped to investigate the stone-cold case.
With fellow Athena alums and special agent Justin Cohen rallying to the cause, Alex uncovered an intricate web of deceit and murder. The evidence she uncovered could send shock waves around the nation: D.C.'s corridors of power and privilege were harboring a ruthless killer. And this time, all Alex's special skills couldn't protect those she loved from the killer's wrath....
Meine Meinung zu diesem Buch gibt es hier.
12. "Look-Alike" von Meredith Fletcher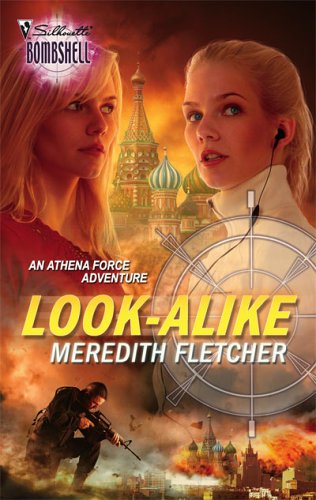 ISDN: 0-373-51202-2
Erschienen: Mai 2006
They looked alike, fought alike...but when it came to spy games, Samantha St. John and Elle Petrenko had different codes. Upstanding CIA agent Sam played by the rules. Russian spy Elle had more colorful ways of getting the job done. Ways that put her at odds with her newfound sister — and in the path of one dangerous male.
Sam's loyalties lay with her former classmates, the women of Athena Academy who'd asked her to find a link between a blackmailer and her parents' deaths. But Sam needed Elle and her mystery man to succeed. Could the sisters' newly formed bond survive this personal mission, the heart of which might reveal a devastating truth about their past?
Meine Meinung zu diesem Buch gibt es hier.
15. "Exclusive" von Katherine Garbera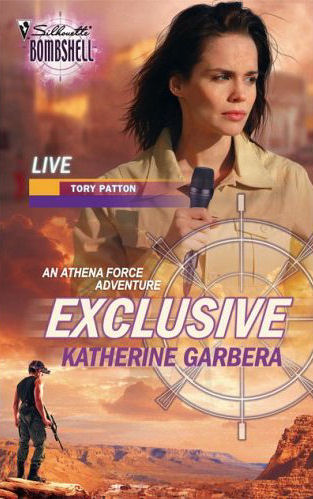 ISDN: 0-373-51208-5
Erschienen: Juni 2006
Never get personally involved in a story. For star reporter Tory Patton, that was the cardinal rule of TV news. But when a fellow journalist and Athena Academy graduate was taken hostage in a war zone — and a rival network broke the story — Tory took it very personally, giving up the safety of her anchor desk to investigate in the field.
The assignment was risky from the start, including a shocking complication: Tory's unexpected pregnancy. With her stubborn, covert-agent lover begging her to go home and her questions stirring up a hornet's nest, Tory suddenly faced reporting a story that could make her career but cost her everything she loved.
Meine Meinung zu diesem Buch gibt es hier.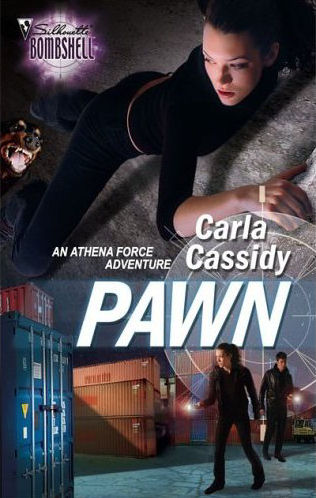 ISDN: 0-373-51212-3
Erschienen: Juli 2006
Lynn White's vow: I'll never be used again.
Her adoptive father had turned out to be a criminal — and left her holding the bag. The FBI had used her to catch him. Now Lynn White was nobody's pawn. She had a new life, close to Athena Academy and the secrets of her past. But when authorities blackmailed her to use her unique skills one last time, Lynn returned to the stealth game. Her assignment: stop terrorists from smuggling a bomb through Miami's Stingray Wharf.
The good news was her contact — undercover FBI agent Nick Barnes, the man Lynn had loved and lost. Nick risked his cover to protect her, and Lynn fell for him all over again — until his own explosive secret shattered her trust in ways more devastating than any bomb....
Meine Meinung zu diesem Buch gibt es hier.
17. "Comeback" von Doranna Durgin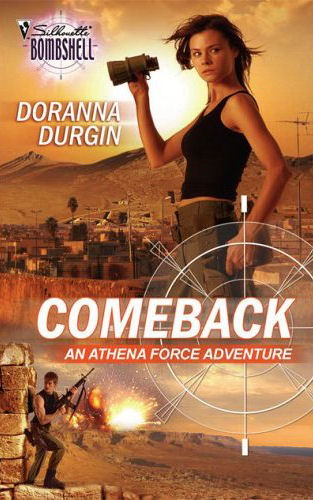 ISDN: 0-373-51216-6
Erschienen: August 2006
Her intervention in a hostage crisis had made her an instant hero. But Selena Shaw Jones still had nightmares. Now the CIA had approached her for another do-or-die mission — to locate a terrorist informant and his case officer, who were missing in the same Middle Eastern hot spot. Selena had to put aside her self-doubts — because the missing ex-terrorist had crucial intel about a strike against America…and the case officer in question was her husband, Cole. With the clock ticking and her know-it-all new partner questioning her competence, could Selena track her wily husband and control this runaway mission while facing her deadliest enemy — herself?
Meine Meinung zu diesem Buch gibt es hier.
The Athena Academy adventure continues ...
18. "Line of Sight" von Rachel Caine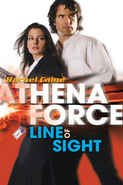 Erschienen: August 2007
After three Athena Academy students are kidnapped, FBI special agent Katie Rush is first on the scene. The Athena grad will stop at nothing to make sure the girls are returned safely--even if it means working with a psychic. This unconventional relationship is not ideal for a by-the-book agent, but Katie can't dismiss his dead-on revelations. Now in a race against time, with young girls' lives on the line, Katie must do something she's never attempted: Put her trust in a handsome stranger.
19. "The Good Thief" von Judith Leon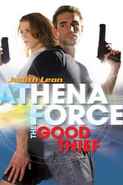 Erschienen: September 2007
When the case is as potentially explosive as that of an Athena student's abduction, Lindsey Novak never enters a negotiation without knowing just who to trust. She thrives on black-market deals with shady characters--even when she has to steal from the thieves themselves. But this time every weapon in her arsenal--including the enigmatic and all-too-sexy bodyguard hired by her father--may not be enough. For recovering the missing girl is only the first phase in thwarting a plan so evil it could change humanity forever.
20. "Charade" von Kate Donovan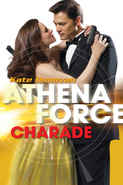 Erschienen: Oktober 2007
A deadly masquerade. As an undercover asset for the FBI, Sasha Bracciali can deceive with finesse and improvise at a moment's notice. And she'll gladly practice any deception if it means saving a kidnapped Athena student. So Sasha takes on the roles of Mafia princess, seductress and co-conspirator at the fortress of an Eastern European despot. Cut off from everything and everyone she knows--including the FBI handler with whom she's been having an affair--Sasha unmasks a painful truth: She has no idea who to trust. But she must figure it out quickly, or her most ambitious charade will also be her last.
21. "Vendetta" von Meredith Fletcher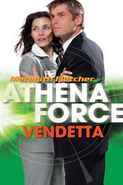 Erschienen: November 2007
History will repeat itself...unless she can stop it. Juicy stories are investigative reporter Winter Archer's bread and butter. So when her beloved mentor asks her to write the biography of Athena Academy's founder, Winter jumps at the chance. But someone out there will stop at nothing--not even murder--to ensure that long-buried secrets remain hidden. And Winter can't finish the job unless she joins forces with the one man who is most definitely off-limits. Only together can they uncover the deadly plot that spans decades and threatens to destroy a legacy... Athena Force Will the women of Athena unravel Arachne's powerful web of blackmail and death...or succumb to their enemies' deadly secrets?
22. "Stacked Deck" von Terry Watkins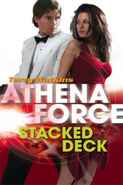 Erschienen: Dezember 2007
No one is better at exposing a cheat than professional gambler and sometimes government agent Bethany James. Now, posing as a glamorous high roller, she'll use every trick she learned at Athena Academy to uncover a mob boss's ugly sins ... and his deadly secrets. But when a daredevil with a tantalizing drawl calls her bluff, the stakes--and her heart rate--become much, much higher. Beth can't help but wonder: Have the cards finally been stacked against her?
23. "Moving Target" von Lori A. May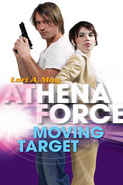 Erschienen: Januar 2008
Francesca Thorn is the FBI's best profiler ... and she's needed to target Athena Academy's most dangerous foe. Getting inside the dark mind of a serial blackmailer is easy. The hard part? Working alongside an irritatingly sexy U.S. Army bodyguard who's shadowing her every move. But as she gets dangerously close to revealing the identity of her alma mater's greatest threat, it seems someone will stop at nothing to ensure she remains dead silent. And her only choice is to accept all the help her personal protector can provide.
24. "Breatless" von Sharron McClellan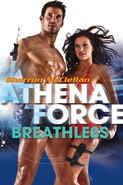 Erschienen: Februar 2008
Athena Academy's darkest nemesis is gunning for her, but USMC Combatant Diver Jessica Whittaker is not easily intimidated. Without thinking twice, she volunteers to help bring down the school's deadliest enemy. Her assignment: an expeditionary mission aboard a sunken ship. Salvaging for clues on an abandoned vessel should have been simple. But a hostile force--and an unbelievably handsome diving buddy--has turned up the heat. If Jess ever wants to set foot on dry land again she'll have to contend with her enemy--and her lover--or risk revealing her deepest secret.
25. "Without a Trace" von Sandra K. Moore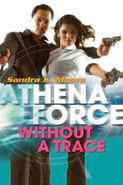 Erschienen: März 2008
U.S. Coast Guard Lieutenant Nikki Bustillo has tracked her target to the bowels of a phantom ship--and she refuses to lose the scent now. But when her overseas contact is brutally murdered on the streets of Hong Kong, Nikki's manhunt is compromised. The mission came from the higher-ups at her alma mater, Athena Academy, and failure isn't an option. Her only hope: the help of a maverick, martial arts expert, police detective. Nikki and her new partner will follow the enemy's shadowy trail out of the ocean and to the ends of the earth--even after their invisible foe turns the skilled trackers into vulnerable prey.
26. "Flashpoint" von Connie Hall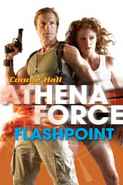 Erschienen: April 2008
Lucy Karmon always does the right thing, even if her methods are sometimes questionable. So when the mercenary is offered a chance to dole out her own brand of justice against Athena Academy's darkest enemy, she takes it. She'll use her contacts to gather intelligence and her expertise in explosives to blast apart Arachne's global network. What her complicated plan doesn't include? Being thwarted at every turn by a follow-the-rules military man. Though Lucy will stop at nothing--not even fireworks--to bring down the bad guy, she suddenly finds herself torn between duty and explosive desire.
27. "Beneath the Surface" von Meredith Fletcher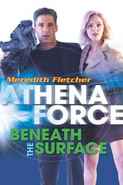 Erschienen: Mai 2008
Shannon Connor has begun to question the information she's uncovered about the prestigious school that wrongfully expelled her. Who is the mysterious source feeding her such explosive intel? Finding the truth has always been easy--until the search means staying one perilous step ahead of a murderous enemy and one arm's length away from a gorgeous government agent. Now, as the legendary school faces its greatest enemy, will Shannon finally return to the fold--or destroy the academy that shaped her?
28. "Untouchable" von Stephanie Doyle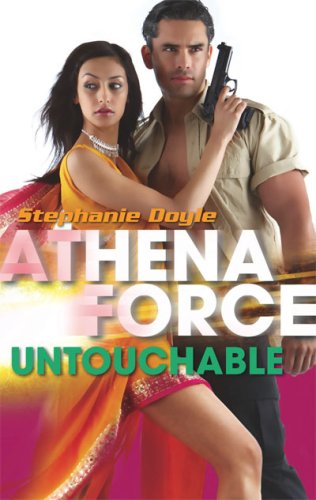 Erschienen: Juni 2008
Orphaned at birth, Lilith knows nothing of her family, her last name or the origin of the amazing power she'd always considered a curse. Then the arrival of a mysterious package reveals her mother's legacy—and the existence of a half sister with special powers of her own. When the family reunion turns deadly, only one man can help Lilith defeat her new enemy. His warrior's hands will keep Lilith alive by any means necessary. But his touch will transform her…body and soul.
29. "Disclosure" von Nancy Holder
Erschienen: Juli 2008
Allison Gracelyn's worst nightmare has come true: She's on the run from authorities. She's being set up, and everything the Athenas—and her mother—have always stood for is in jeopardy. Yet clearing her name will mean battling an adversary wielding weapons unlike any she's ever seen. Only the help of her handsome NSA contact, who offers to put his neck—and career—on the line, will be enough to stop her enemy's deadly reign. But once she's up close and personal with her long—distance partner, full disclosure suddenly seems the greatest risk of all.